Xmas train rides are Christmas-themed tourist train rides, decorated with Santa Claus, Christmas trees, bow knots, etc. We have Christmas train rides for sale in all sizes, both battery and diesel; both tracked and trackless. There are 5 most popular styles of Christmas sightseeing train. And the most popular of them is the Christmas ride-on tourist train. Christmas Santa train rides can be built in many places, such as shopping malls, amusement parks, scenic spots and so on. We are committed to providing you with high-quality and low-cost Christmas sightseeing cars.
Small Christmas scenic train rides for your business
We provide Christmas Santa train rides in small size. Despite they are small, the quality and safety can be guaranteed. Generally speaking, they are designed for kids. Furthermore, we could customize the size and length of Xmas train rides according to your requirement.
Small Christmas train for kids
Small Christmas Santa train are designed for kiddies, with small capacity, space, and low height cabins. In addition, the safety belt is also short. Small Christmas train rides are attractive for kids. Many kids have a dream that they could ride on the reindeer and fly with Santa Claus. And small Christmas train rides achieve this dream for them. In addition, cute statues of Santa Claus and reindeer add fun and Christmas mood to the Christmas Santa train rides.
We provide different driving modes of Christmas train!
Our Xmas train rides have two driving modes: one is diesel, and another is battery. However, only trackless trains have two driving modes, rail trains are only powered by battery. Two ways of providing energy both make Christmas scenery train could run for a long time, and both battery and diesel drain slowly. Our battery trains for Christmas are easy to maintain. And if you take good care of them, they can be used for a long time. These 2 driving modes of Christmas trains suit for different sites. You can choose one of them according to your needs.
Electric train for Christmas for sale
The advantages of Christmas battery operated trains are more safe and environmentally friendly. Therefore, they are more suitable for backyards, since exhaust fumes are not easily vented from the yard. And we provide a charger with it. The battery is fully charged in 6-7 hours, lasting 8-10 hours depending on frequency. And it can be used normally for more than 2 years, depending on the frequency of use and speed riders adjusting. When the battery is running low, the dashboard will display.
Xmas diesel train for sale
Only Christmas themed trackless trains are powered by diesel. The advantage of xmas diesel train is saving time, that is, you just need to add diesel to it, and it continue to run. It doesn't need to be charged for a long time as electric train for Christmas and if the passenger flow is too high, don't worry about running out of power on the trains and having to recharge it. Moreover, when the diesel is running out, the dashboard will display. What's more, diesel is easy and convenient to buy.
Christmas rail train rides for sale
Our Train tracks Christmas run on small iron tracks to simulate the real operation of the train. When kids ride on it, they feel as if they ride the real train. Compared to the trackless Christmas rail train rides, they are more fun and attractive.
In addition, the speed and time can be adjusted as your request, and musics that can be exchanged also play while train running. Riders just need to press start button on the control box, and then it run. When the time riders set up is over, it will automatic stop. What's more, brake works well and therefore safety will be guaranteed.
Besides, the track length can be customized according to your needs. Assembling the track is not troublesome, and we provide installation instruction and videos for you. What's more, if you need Christmas trackless train rides, we could also customize it for you.
Top 5 Sale style Xmas train rides for Tourists
There are four best-selling themed Christmas train rides in our factory, including Thomas the tank Christmas trains, old fashioned Christmas trains, Christmas rideable train, and Christmas steam train rides–just looking like a steam train and actually powered by battery. The cartoon characters will wear Santa hats and the train body will be decorated with Christmas trees, candy cane, bells and bows. Cartoon Christmas trains are popular among children, while old fashioned Christmas trains and Christmas steam train rides are popular among adults.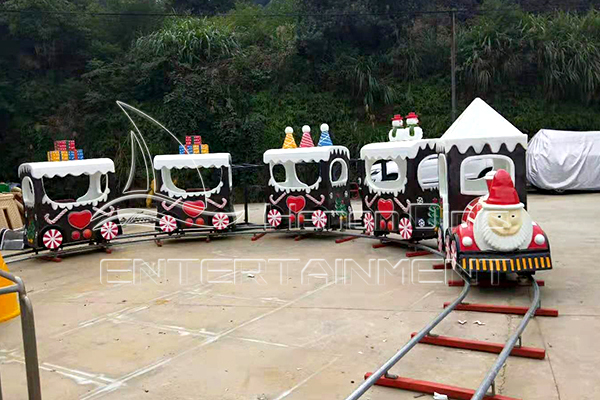 We provide rideable Christmas train for you!
Ride on Xmas train rides for sale are also popular among consumers who riding on them are like riding on top of a real train. Riders can experience the fun similar to gallop on horseback. For these trains are Christmas themed, people ride on Christmas trains like they're riding Santa Claus's reindeer, which is so romantic and fantasy. Therefore, Christmas ride-on trains are popular among children and adults. Moreover, the speed can be adjusted so that riders need to hold on the train rides tightly, which is thrilling and exciting; however, our trains can ensure their safety.
Why not buy a Christmas train for your venue?
Xmas train rides for parks
Setting up a Christmas Santa train in your park will definitely bring you benefits. Many people would like to go to parks after dinner or on the weekend, including kids and adults. When kids see Christmas Santa train, they perhaps ask their parents to allow them to ride it.
You may set up Christmas Santa train around the park, and thus, people could tour around the park by riding it. What's more, setting them up through the bush is also a fine choice.
Christmas Santa train for malls
Many investors choose to purchase amusement rides for their malls. Investing a Christmas Santa train in malls will bring you extra benefits. For the mall is generally crowded, and Xmas train will attract many kiddies to ride it. In this way, customer traffic will be converted into cash. You could build it in the mall or at the entrance. For it is need to drill hole when building the track, we recommend you build it at the entrance of the mall.
Where could you buy Christmas train rides with fine quality and good price?
Clients would like to buy fine quality and good price train rides, so you could choose us. Our company is a professional manufacture, having a factory and manufacture products by ourselves. Our Santa train rides are inexpensive and at the same time give riders the best experience. Our Christmas train rides have low repair rate, are easy to maintain and can be used for a long time as long as you take care of them, and our products are covered by a lifetime warranty; the mechanical part is free for 1 year, and the original electrical parts are free for 6 months. Don't hesitate, come and buy them.
If you are interested in our products, kindly contact us!