Differences between our diesel trains and electric trains
Are you finding electric or diesel train for sale? There are the differences of them.
As the name implies, diesel trains are powered by diesel; and electric trains are powered by battery. Diesel is easy to add and it keeps train rides moving soon. By contrast,battery is fully charged in 6-7 hours. Therefore, diesel trains are more suitable for a place with a lot of traffic such as amusement parks, malls, scenic spots.
One of the advantage of electric trains is environmentally friendly, for they won't release exhaust gas like diesel trains. They are suitable for backyard since exhaust fumes are not easily exhausted from the backyard. Moreover, consumers could charge the train ride during the night and play in the daytime.
Purchase kids small diesel trains for your business
Do you want to give your kids a happy and colorful childhood? I believe so. Our small diesel train for sale are highly popular among kiddies. They ride miniature diesel trains as if they become train drivers, and smiles are so pretty on their faces.
You could buy a mini diesel train in your backyard, and drive it around with your children, enjoying happy hours. Apart from buy them for your kids, investing them in outdoor playgrounds or malls is also a great choice. Almost every time they pass our train rides, they tell their parents they want to ride.
For children, mini diesel train for sale is enough, as kids are small. Little trains that run on diesel for sale are mostly used in small venues as backyards and small parks. We can customize the size according to your needs. Moreover, we offer various style kids diesel trains, such as Christmas train rides, ride on trains, sea train rides and cartoon train rides.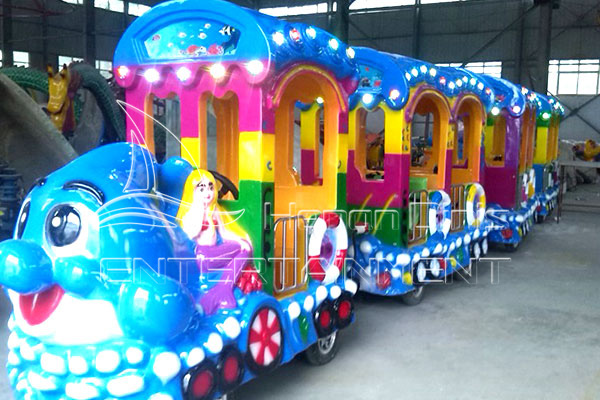 Where you could find a reliable diesel train manufacturer?
When you find a reliable diesel train manufacturer, you may consider the following: price, quality, after-sales service, benefits.
We will give you fair price; even if our price is not the lowest in the market, the quality is top notch.
I can assure you our commodities are of fine quality and coming out of a strict process so that working well, and you could come to our factory for inspection.
After-sales service guarantee of our company is that we provide maintenance for lifelong, 1 year free maintenance for mechanical parts, and 6 months free maintenance for electric appliances.
We have built a solid reputation for providing quality workmanship and superior service at a fair price, and try to bring the largest benefits to clients.
Cases:We sold a diesel train for sale to UK.
Last month, we sold a vintage diesel locomotives for sale and an animal themed diesel train to UK. The feedback from our customers is pretty good; client was so satisfied with the quality and appearance of them. He invested it in the mall, which actually attracted more children and their parents. Parents came to mall to ride train rides with their children and by some goods by the way.
Now let me show you some details.
It is not so large, which can carry 24 people. The highest speed is 25km/h. The power is 15kw. And the volume is 40HQ. Its turning radius is 6m. Diesel tank volume is 2.798L. The gearbox is IVECO Original aluminum transmission box.
If you are interested in our products, kindly contact us!