The big Ferris wheel is the most common Ferris wheel, which is often set up in amusement parks, scenic spots, or as a city landmark. They could also be built in aquariums, waterfronts, outdoor bars, etc. We offer big round wheels of various heights and their quality is very good and guaranteed. However, there are some groups of people who are not suitable for riding the big Ferris wheel. So we provide child Ferris wheel and mini Ferris wheel. In addition, there are some precautions before opening the big observation wheel. As big Ferris wheel is not suitable for indoor venues, we also provide indoor Ferris wheel.
Where can the Big Ferris Wheel be built?
You can see big wheel rides in playgrounds, parks, and even in city centers. In addition, you can also set up a big observation wheel on the seashore, harbor, aquarium, scenic spot, etc. Big Ferris is suitable for outdoor venues, and we also have indoor Ferris wheels.
Build a big giant wheel in the port
A big round wheel built in a harbor could become a landmark. Riding on it, passengers can see the sea and, if they are high enough, other landmarks in the city. Therefore, big round wheel can be used as a scenic spot to attract tourists. In addition, there are many passengers passing through the port, and tourists from other places or foreign countries are likely to take big wheel spinning to overlook the city from a high altitude.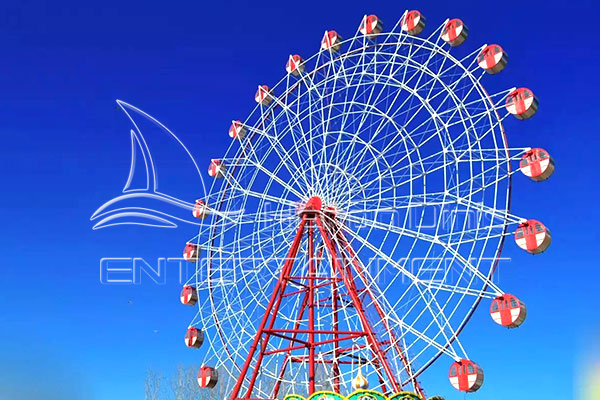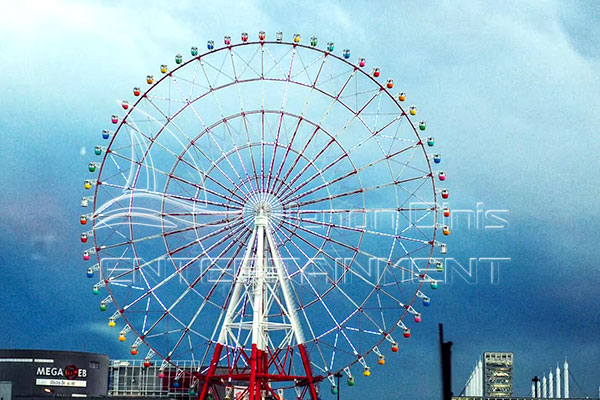 Build a Ferris wheel in an attraction
The scenery of the attractions is generally very spectacular and beautiful. Building a big gaint wheel in the scenic spot, tourists could overlook the magnificent scenery of the scenic spot from a high altitude, which feasts their eyes and makes them linger. What's more, setting up a giant big wheel in the scenic spots could increase your income for your scenic spot.
For scenic spots, we also offer double small Ferris wheels, small Ferris wheels and children Ferris wheels.
Best quality big Ferris wheel for sale
The big giant wheel is basically made of steel, so the quality of the steel is very important. The steel of our steel frame structure is the steel that complies with the national standard.
The bracket is made of seamless steel pipe, which is welded seamlessly through sand blasting and flaw detection.
The cabin is made of steel, FRP, painted and tempered glass.FRP is strong and durable, environmentally friendly and low maintenance. The spray paint is not easy to fade, and it is rainproof and sunscreen. The tempered glass guarantees that if the glass is accidentally bumped into in the cabin, it will not break and people won't fall. Of course, if you need open cabins, we could make glass-less cabins with multiple fences.
In addition, there are many LED lights on the big wheel spinning. The cabin and spokes are adorned with LED lights. At night, the big wheel ride is shining and colorful, which is splendid and attractive.
Its construction is different from kids Ferris wheel and small Ferris wheel, however, we guarantee high quality of them.
How high are our Ferris wheels?
We provide giant big wheels of different heights, including 20m, 30m, 42m, 46m, 50m and 65m. The number of cabins they correspond to is: 12pcs, 18pcs, 24pcs, 26pcs, 32pcs, 36pcs. You may choose a large Ferris wheel with the right height according to the size of your site. The 20m or 30m Ferris wheel is sufficient for small amusement parks, waterfronts and aquariums, and higher ones for harbors or urban attractions. Besides, a large big wheel that is so high may be intimidating to some tourists, and thus you could choose a relatively low one.
If you want to buy a lower Ferris wheel, we provide indoor Ferris wheels, double Ferris wheels and kid Ferris wheels under 10 meters.
Who is not suitable for riding the big Ferris Wheel?
We recommend that people with fear of heights, high blood pressure, and poor heart do not take the ride. And it is best for children to ride with their parents. Additionally, we suggest that you can place warning signs under the big Ferris wheel indicating that people with above or other diseases should not ride. What's more, we provide mini Ferris wheels, kids Ferris wheels and small Ferris wheels suitable for indoor venues.
People with high blood pressure and heart problems shouldn't take the ride
Although the cabin of Ferris wheel does not move fast, it is exciting for riders to look down from a high altitude. Especially some people who have heart disease or high blood pressure, riding the indoor observation wheel may cause their heartbeat to speed up. And it may cause heart disease, cause blood pressure to increase or be detrimental to health.
People with fear of heights should not take the ride
The big Ferris wheel is different in size, but the lowest can reach 20m. Some people have acrophobia, and such a high Ferris wheel may make them feel a strong fear. In extreme cases, big round wheel may cause them to rang from trembling to coma and even require medical attention. Therefore, we do not recommend that people with fear of heights ride. However, they could ride our small Ferris wheel which is not so high.
It is best for young children to ride with their parents
Some young children are naughty and lack perception of danger, so they may bounce around in the cabin. Jumping may cause the cabin to shake, which may cause them to be injured. Therefore, we recommend that adults accompany young children to ride the big giant wheel. What's more, we offer kid Ferris wheel and mini Ferris wheel with complete safety devices and the lower height. And young kiddies are more suitable for riding them.
What is the structure of the big Ferris wheel?
The structure of the big Ferris wheel we make consists of brackets, spokes, steel trusses, and a rim—the outer ring. The supporting frame of the big wheel in the sky is a triangular pyramid space structure, which supports the central axis. The spoke structure connects the central shaft and the rim, and connected by several rings of steel trusses to increase the firmness of the spokes and improve the stability of the structure. The rim is mechanically driven to rotate at a constant speed around the central axis.
In addition, we provide mini Ferris wheels, kids Ferris wheels and small Ferris wheels suitable for indoor venues. The construction of them is not same to big Ferris wheel.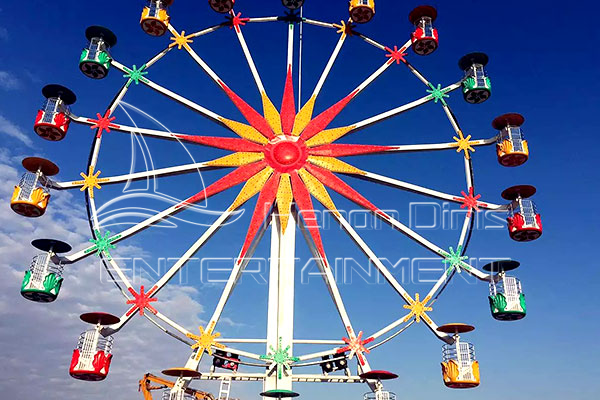 What is the transmission mode of the big wheel ride?
The transmission mode of the big observation wheel is hydraulic transmission. Compared with the transmission of electric reducer, this transmission mode transmits more power, is more stable, and has a simple working principle. The hydraulic drive drives the rim to rotate through friction. Big wheel spinning is also equipped with a braking system to ensure that the Ferris wheel can be stopped in time in case of emergency. In addition, when the out-of-plane deformation of the rim is large, the drive system can reduce the deformation to a certain extent, and the support frame can ensure that the deformation will not collapse.
Besides, we provide mini Ferris wheels, kids Ferris wheels and small Ferris wheels suitable for indoor venues.
Our company is a professional manufacturer integrating design, production and sales, with a series of professional skilled workers. Many of our products are sold worldwide. Our company is with 20 years of experience and great reputation. In addition to big Ferris wheel, we also offer kiddie Ferris wheel, double Ferris wheel, mini Ferris wheel and indoor Ferris wheel. What are you waiting for? Kindly contact us and buy what you want!
If you are interested in our products, kindly contact us!