Ride on trains for sale is a kind of sightseeing train that runs on the track. Passengers could enjoy the view by ride on it. It is often built in amusement parks, parks, farms, backyards and more. And it is battery powered. Besides, we offer rides in a variety of sizes and styles, and they are suitable for all ages.
Information of ride-on trains with track
Ride on scale trains for sale run on the track, which are like miniature real trains. Riders riding on the trains will feel like they're actually sitting on top of the real train. Railways are made of national standard steel and quality can be guaranteed. And the driving speed can be adjusted as your request. It is more safe than trackless ride-on trains as it is always on steal track. However, the speed of trackless ride-on trains is not high. Besides, we provide ride on steam trains for sale with track.
Information of trackless ride-on trains
Trains for sale ride on without track could be used more freely than that with track. Riders could go everywhere they want. And you don't need to set up rail tracks in your venues. Moreover, the appearance of trackless ride on locomotives for sale is more colorful and decorated with many LED lights. Besides, the quality is also guaranteed.
The brakes of them work well so as to protect riders and reduce speed. They can also play musics while riding. Music and time are also be adjusted as your request. Our sit on ride-on trains for sale are covered by a lifetime warranty; the mechanical part is free for 1 year, and the original electrical parts are free for 6 months.
We provide ride on trains suitable for different ages!
We provide ride on scale trains for sale for toddles, kiddies, adults and the elders. Riding on locomotives for sale is a wonderful experience for people of every age. Even toddlers and the elder can experience the joy of riding on account of high quality and safety of these ride on trains. Different ages correspond to different size ride-on trains, in addition, the speeds can be adjusted differently for people of different ages, slow for kiddies and the elders, and fast for adults.
Wanna to buy ride on trains of different sizes?
Generally speaking, ride on scale trains for sale are relatively small. This is because riders riding on it just hold on the bar without belts, and the height of ride on road trains for sale shouldn't be too high. For our large and small ride on locomotives for sale, the feet of riders can touch the ground. In this way, they will be more safe.
Small trains to ride on for sale and large ride on scale trains for sale we offer have some differences. The height of ride on miniature railway for sale is lower than the large one. So ride on miniature trains for sale are more suitable for kids. And large ride on railway for sale is more suitable for adults. Besides, the size of locomotive is different. However, the gauge of them is the same.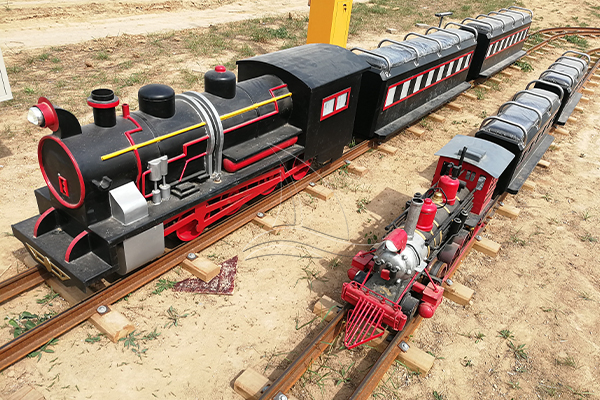 What places do ride-on trains can be invested in?
Ride on road trains for sale are so popular among kiddies, and many parents buy them for their kids in the backyard. After buying it, you will enjoy happy "train journeys" at home with your children. And you could give kids more happiness. You could also invest ride on railway tracks and trains in amusement parks, carnivals, theme parks, shopping center, and Scenic spot, etc. Riders could tour around the site and enjoy the joy of driving. Comparing with sightseeing train rides, they are open air. So riders enjoy the scenery and see the products in shopping malls conveniently. Therefore, they are also popular among investors of shopping malls.
What is the energy supply method of the ride on rail trains?
W
e offer ride on railways train rides electric powered  for sale running for a long time. The electric tourist train with track is battery powered, and it has a charger. Meanwhile, the energy consumption is slow. The battery is fully charged in 6-7 hours, lasting 8-10 hours depending on frequency. Battery life is normally for more than 2 years, and it also depends on the frequency of use. Our model ride on trains for sale are easy to maintain and will not break down for a long time if you take good care of them. The advantage of battery operated ride on trains is more environmental friendly and safe.
How many themes of ride on road trains for sale we provide?
Our company provide themed trains for sale ride on in a variety of styles. For instance, cartoon, festival, animal, etc. In more detail, we manufacture vintage ride on train for sale, ride on Christmas trains for sale, ride on steam train for sale–just looking like a steam train, and actually powered by electricity; and ocean themed ride on trains etc. We sold a ride on 7.5 steam trains for sale to a customer in Canada in February.
Furthermore, you can customize style or shape you like, and then we will manufacture special trains according to your requirements.
If you are interested in our products, kindly contact us!