There are many scenic spots amusement facilities for family to play together, including non-thrilling and thrilling attraction projects. Among them, rainbow slide, multi person swing, suspend bridge, jumping air pillow belong to non-thrilling projects. Non-thrilling projects are suitable for kids, too. Glass water slide, glass suspension bridge, glass walkway belong to thrilling attractions. And they also belong to glass-made amusement projects. Most of exciting attractions need to be built on the mountain, or above the valley or river. If there are no mountains or rivers in your scenic spot, non-exciting amusement projects are more suitable for your venue.
Scenic spots amusement facilities for family–the rainbow slide makes parents to return to childhood
The slide is the scenic spots amusement facilities for family that most people have slid in their childhood. Therefore, adults will think of many childhood memories when they play the rainbow slide.
What is the rainbow slide like?
The Rainbow slide is very beautiful and high, and the slide is long. It is more exciting than ordinary slides. Tourists need to sit on an air cushion to slide down from the top. Despite the speed of sliding is fast, they won't be injured. For when they slide at the bottom of rainbow slide, the speed of sliding will be slow. So the safety of tourists is ensured. The length of them could be adjusted according to the scale of  your venue. We offer 100 m rainbow slide for small venue and 300 for large venue.
What does rainbow slide bring to family?
Though rainbow slide is popular among kids, parents can also experience the fun of childhood again by playing rainbow slide. They also find childishness when they slide with their children. Moreover, sliding the rainbow slide could make parents feel relaxed after work. In addition, sliding it also enhance the relationship between parents and children, as children like their parents to play with them.
Joyful scenic spots amusement facilities for family– multi person swing
Multi person swing is suitable for many people to play together. Thus, it is suitable for family to play. It is interesting as it is controlled by everyone on it. People shake at the same time and have fun together, so it cultivate the spirit of group fun of children. In addition, family riding it together could increase affection between them. This project is safe enough for kids.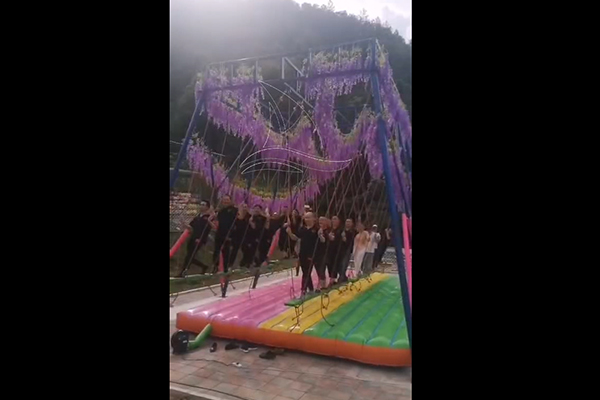 Swing bridge is an interesting scenic spots amusement facilities for family
The Swing bridge, as a scenic spots amusement facilities for family, is recently popular. It will be more interesting to play with more people standing on it. People standing on it try to keep their balance, and those who lose their balance fall onto the air cushion below. It is suitable for the whole family to play together. Parents who take their children to play together on the swing bridge, can protect each other from falling.They can have fun together and bond with each other.What's more, parents can protect their children from being pushed or squeezed when they take their children to play the Internet celebrity bridge together. Nevertheless, this project is safe for kids so that they who fall down won't get injured.
Elastic and playful bouncy clouds
As one of the scenic spots amusement facilities for family, the bouncing cloud is similar to a trampoline in that it is elastic and can bounce people up. But bouncy clouds don't bounce people very high and are safer. At present, most of the trampolines are suitable for children, and few are suitable for adults. Bouncing clouds is suitable for kids and adults, providing adults with a pleasure similar to that of a trampoline. Adults and children who jump together on the jumping cloud enjoy happiness together and increase affection. And bouncing cloud makes adults feel like children again.
The exciting glass suspension bridge suitable for the whole family
Among scenic spots amusement facilities for family, glass suspension bridge is a somewhat exciting attraction rides. Walking on it, visitors can enjoy the panorama of canyon. Its glass is a special multi-layer laminated glass, which is very strong and stable. In general, parents travel with children. In the scenic spot, parents can walk with their children above the glass suspension bridge and enjoy the magnificent views of the canyon below. The glass suspension bridge will give them an exciting but wonderful experience, which will surely make them remember deeply. In addition to it, we also have other glass-made attraction projects for family, e.g. glass water slide, glass cliff walkway and so on.
Exciting glass water slide for family
The glass water slide is one of fun and exciting scenic spots amusement facilities for family. Players slide down the top of the slide on an air cushion. There is water on the slide, so it is very smooth and the passengers glide smoothly. And when you slide down, the water on the slide will splash, very cool. Glass water slides are similar to rafting on dry land. The glass water slide is suitable for children and adults, so parents can bring their children along to play. It can give them a happy experience.
Glass canyon walkway–thrilling attraction for family
Glass canyon walkway is a bit similar to glass suspend bridge, as the bottom of it is made of laminated glass, too. They are both glass-made attraction projects. Whereas it is built on the hillside and without hanging ropes. Family can watch the scenery on the glass canyon walkway and experience the exciting feeling together. It is safety assured and we could show you our certificate of safety.
Our company is a professional manufacturer integrating design, production and sales, with a series of professional skilled workers. Many of our products are sold worldwide. Our company is with 20 years of experience and great reputation. In addition to family scenic spot fun facilities, we can also provide exciting scenic spots rides. It including glass water slide, glass suspension bridge, glass walkway, step by step shocking, high-altitude bicycle, high-altitude swing. And we also provide small venues attraction rides and kids attraction rides.In addition to scenic attractions, we also have Ferris wheels, sightseeing trains, bumper cars, flying chairs and carousels for sale. If you are interested, please contact us.
If you are interested in our products, kindly contact us!